2017 AALL Fall Term Newsletter  now available.  Click HERE or on the "Newsletters" link above.
AALL Field Trip to the Arab American National Museum
The Fall AALL Field trip was to the Arab American National Museum in Dearborn, MI.  For more photos, visit the GALLERY.
Spring 2016 Class Photos      (click on a photo to enlarge)
The Physics of Musi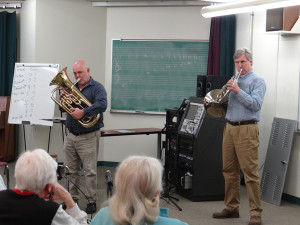 c -  Taught by Clayton Parr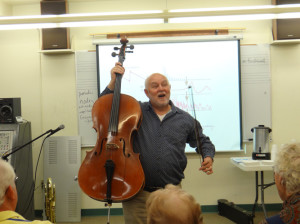 For a report and photo album of the 2014 "Biology of Sub-Tropical Florida",
click: 2014 PHOTOS
——————————————————————————
WHAT IS AALL? The Albion Area Lifelong Learners (AALL) was established by a group of retired persons after a suggestion by the Action Team of the Albion Alliance 2000. Sponsorship and a grant by Albion College enabled classes to begin during the spring of 2000. The membership has now grown to over 160 and includes members from a wide area around Albion. AALL is affiliated with the Elderhostel Institute Network. You must be 55 or older to join AALL but younger partners are eligible. The mission of AALL is to provide opportunities for lifelong learning through discussion, intellectual and social interaction, and access to cultural events. Our classes provide an opportunity to be part of a learning process that includes stimulating discussion, humor, disagreement, insight and challenges to preconceived ideas.  The classes are simply for the enjoyment of learning. We offer three terms per year, fall, winter and spring. Each term offers 5 to 6 courses that meet two daytime hours per week for 4 weeks. In addition, there are three assemblies for all members and the community that feature outstanding speakers.  There are also two field trips per year. The course topics are from all areas of scholarship including science, the arts, literature, political science, history, physical activity, religion and many others.  For a sample list click HERE. Field trips include museums, formal gardens, zoos, plays and opera among others. Click HERE for a sample list. To find more about the upcoming term, please click on the Newsletters link on the top menu to view or print the latest newsletter.  Newsletters will be available about a month before each term. Our classes encourage study and discussion and have no tests or papers to write. However some classes do have reading assignments and other activities in preparation for each class. Membership cost is just $20 per year and that includes one "free" class per term (however some classes require a small materials fee). Other classes are just $10 each. HOW DO I SIGN UP? 1) You may call 517-629-3550 or e-mail   dicklewin@att.net   to get on the newsletter mailing list. The newsletter is published three times per year and contains a list of upcoming classes and a registration form.  You will receive the next newsletter about a month before classes begin. Or you can get the newsletter and registration forms on-line: 2) Download the latest newsletter from the menu above and print it (it's in PDF format and requires Adobe reader – see note below). Choose your classes then fill out the registration form including the appropriate fees for membership and classes then mail to the registrar's address listed on the form. Or simply bring the form to the all-member assembly held a few weeks before each term.
A NOTE ON PDF FILES
Many of the document links on this web site are in PDF format and require that you have the application Adobe Reader on your computer.  Most all computers come with Reader already installed.  But if you click on a blue document link that has (PDF) after the name and nothing happens, you need to download and install this application. To download Reader click HERE which will take you to the Adobe site. BE SURE TO UNCHECK THE BOX THAT MAKES CHROME YOUR DEFAULT BROWSER!